I know, I promised more photos today but I got side-tracked and ended up having fun with the dogs and my family during photo o'clock.
Worth it!
I did make an effort to take a couple photos tonight to show the second Elymwold hair fork I purchased along with the ebony and burl one in my last blog. That's this one
here.
Nigel's photos are much, much better than anything I managed to take today, but I did get a shot of it in action, and a close up of the topper which shows quite nicely how stunningly beautiful it is.
The ripple of the grain pattern is gorgeous! I really like the subtle crushed gem inlay as well.
I really think this fork is fantastic. It's a good size for me and holds nicely on its own without a twin, although I don't doubt that someone with more hair than I have could easily wear a pair of them with style. I love yellow, and huon pine is such a great shade of yellow without being too bright. Huon pine smells amazing to me as well, so that was a nice bonus.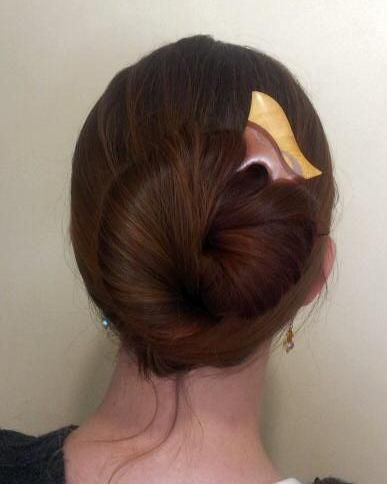 I am very, very, happy with my latest purchases and hope you like them too. I wish for all of my hairy friends to eventually own a piece or two, or three, or more, from Elymwold. I can equally recommend both Nigel's hairsticks, hairforks and customer service as being exceptional.
Cardi.