Well, I have had one very fortunate day when it comes to finding out about beautiful things before they were listed. I don't have magic powers or anything, I guess I just asked very nice people at the right times! I feel pretty lucky. Also grateful. I already think I own the most beautiful Jeterfork ever made. That's this one. A really beautiful swirly cherry wood.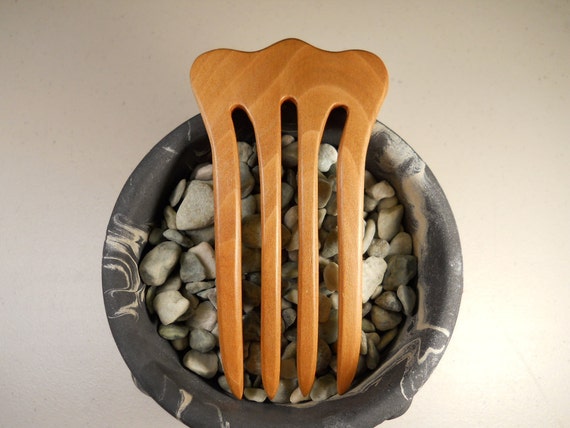 Today I think I have even managed to top my favourite grained Jeterfork with two more incredible pieces of wood. One black and white ebony and one bocote. I have been searching for the perfect black and white ebony fork for years, and to find one from one of my top three favourite vendors and at such a great price? Well, I was over the moon! Here's some pics of the new ones: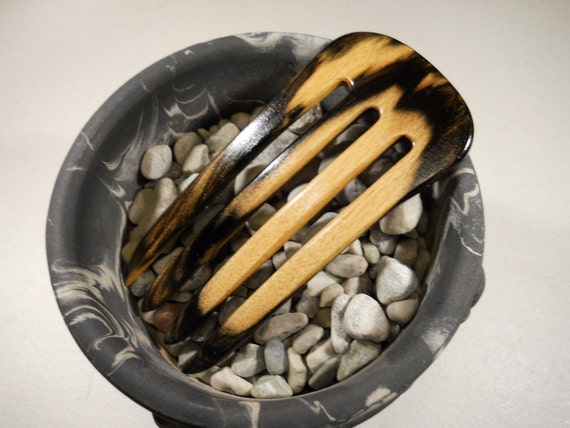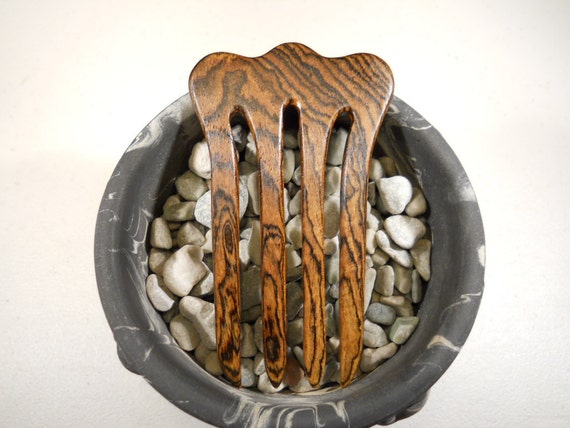 I can't believe how fortunate I was! I hadn't made a purchase from Jeterforks on Etsy for myself in just over two years, (mostly because the cherry wood one was so awesome I felt I couldn't top it) and I can tell these forks will be worth the wait. I'm particularly happy about the high contrast topper on the black and white ebony and the fascinating swirly grain in the bocote fork, with the knots on the prongs. Joshua from Jeterforks is one of best three hair fork vendors out there, and I have high standards. He's extremely helpful too.
Also, I have reserved a couple of amazing new Elymwold forks, but I don't have listings to link the photos from yet. Nigel from Elymwold is one of the nicest people ever, and if you are serious about wanting to reserve something just send him a polite conversation and ask. You won't regret it. Even with no customs, Nigel is very happy to tell you if he has something non-custom available.
Now, between my Elymwold beauties and my natural wood 60thstreets and my carefully chosen, amazing Jeterforks, it is going to be difficult to use anything else, so it feels like the right time to shed quite a few of my less used items. Paying for new things by selling the old unused ones feels much better than just buying new things. Also, with time I now know exactly what I want and most of my new items are forever keepers. Going for quality instead of quantity now. I can reduce my collection and have more forever items. Sounds like a WINNING situation to me. Hopefully I can find homes for some of the things I'm willing to let go, (even if it is only because I'm allergic to dymondwood now.) I'll miss all the happy bright colours when they are gone, but I can console myself with amazing burl and wood grain.
Hopefully I'll end up at least even, or in the front after this last lot of purchases. That would be fantastic. I just hope everything arrives safely at their destinations. That's most important to me.
In other news Mr Cardi changed my ring-tone to the "Can't hug every cat" song and I laugh every time my phone rings. Thank you Darling!
Hope everyone is having a good week. I'm going to have to stop shopping for a long time now, but I'll be happy to point out all the gorgeous things I see to everyone else.
Cardi.