Over the last four or maybe even more years I've been a member of a few different hair forums, but although I admire beautiful hair and appreciate tips on hair care, what has maintained my interest has been all the discussion of pretty hair toys and also the varied group of people I have chatted with along the way. I am proud to call some of these people my friends, even if we have never actually met.
Hair toys is a sort of generalized term which includes all sorts of common and uncommon things which are used to hold hair in styles or even just to decorate hair. I mostly like things that are practical, comfortable and don't cause any damage, but my real passion is only for the beautiful timber that is used to create the wooden hair forks and hair sticks. I wonder if I were well again if I should switch completely out of my science based career and test out my skills in carving and wood-working? It's unlikely to happen at this rate (hurry up please research!) but my dear Granddad, may he rest in peace, was a carpenter, and I wonder if somehow I have wood-working in my blood? Probably a silly notion, but it's nice to think I could share one of his qualities.
Because I have such an appreciation for the look of beautifully finished wood I have become fascinated by the different types of woods and I like to collect the most beautiful wooden hairtoys that I can find. I am certain that had I not discovered wooden hairtoys, I would have eventually ended up obsessed with beautiful wooden pens, bowls or other knick-knacks, but I really like it this way because I can wear the things I like so much every day.
I have a couple new photos that I have taken of beautiful wooden hair forks from
Designs by Baerreis
that arrived yesterday afternoon. I had no idea maple in particular could be so pretty! I think my new zebrawood three prong Ursula, (the striped one) is the nicest of their work that I own so far, and I am delighted by the patterns in the maple nautilus (four pronged fork). I was pleased to see how nicely they were shaped and I like the shape of the three prong fork even better than the example photo in the shop. The rounded prong gaps are really lovely. I was happy to see that both woods were finished very nicely too.
One of my favourite references for the different looks and types of woods is
HobbitHouse.
I LOVE HobbitHouse and if the guy behind it ever reads this, thank-you, thank-you for all your hard work. I have learned so much from this site that it is simply incredible. Plus I like to look at all the pretty woods and enjoy the discussion about the accuracy of photographs by vendors. I especially like the fact sheets and colour change discussions. They are very informative. I like to imagine that the creator of that webpage would understand my passion for beautiful timber.
I have been slowly collecting bits and pieces for over four years now. I like to think I am quite choosey and that the sellers I return to are very talented and deserve the repeat business.
One of my favourite things in wooden creations is burl. Burl is the result of damage to the tree that kind of forms a little "tumour". Once the tree or branch affected is felled, and the wood worked, burl will show up with whorls of grain and some voids. My absolute favourite woodworker is amazing in how he works with burl and fills the voids beautifully with things like crushed precious stones before finishing his hair sticks or forks. I suppose now would be a good time to link the new
Elymwold
fork I have headed this way: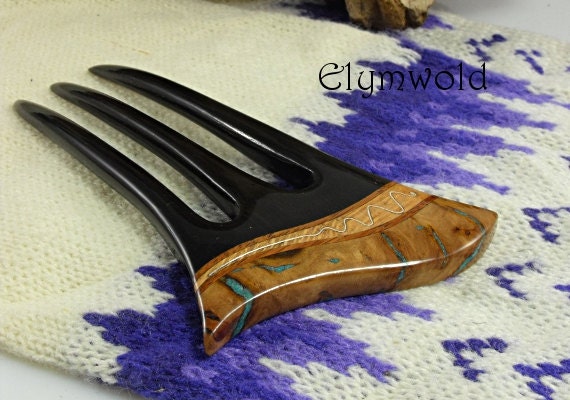 See how he has filled the eucalyptus burl topper with turquoise to beautifully close any gaps in the burl? Then added strips of black wattle which shimmer copper-bronze in the light, and another stripe of silky oak inlaid with silver? All on top of a glossy gabon ebony fork! Yes, I know it's probably not exciting to anyone who isn't a "grainiac" (wood grain maniac), but to me it's more gorgeous than a whopping great big diamond ring. I hope this piece in particular can become a family heirloom and be passed down for who-knows how long. I need a "happy dance" smiley on this blog. I don't think I have ever seen anything quite this amazing before, even my birds-eye maple glass bead topped Graydog hairstick will take second place to this work of art.
There's a reason this crafter is my all time favourite. This should not diminish how highly I think of other vendors I mention.
And last of all, but certainly not least, I can't stop thinking about the black and white ebony and bocote Jeterforks on the way. I just know they are going to be in my absolute favourites list. Two years between orders was far too long. I kept on looking and admiring constantly, but was trying to cut back on spending in general after moving house.
Mr Jeter's work is always perfectly smooth when he's finished with it, even when using rough or ridged woods. He really takes very good care. Your hair will always be safe with these forks and I will happily recommend them to anyone. I like the fork shapes and Mr Jeter is incredibly helpful. Like Elymwold, he has always been very happy to shorten forks where needed, which is a wonderful kindness and encourages me to buy beautiful things I would otherwise have passed on. The head curve is always perfect and consistent and I find that with the tung oil and beeswax finish the forks increase in beauty with age. If you live in the U.S. the shipping is free too. Bargain!
So, I hope you're all tempted and maybe you can pick yourselves up some pretty wooden things. I probably (definitely) have enough already, but I make an exception when I see something amazing.
I promise photos when the elymwold and jeterforks arrive and I'm still slowly working on clearing out some other stuff that I liked before but has been gathering dust since Elymwold started making forks.
So yeah, I just rambled on about timber and hair forks for ages. Well done if you managed to read it all without falling asleep. You might be a grainiac just like me.
Cardi